Localization and Mapping with NI Mobile Robot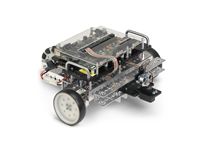 This project has its main goal the mapping and localization of a mobile robot from the National Instruments in a flat 2D environment. Standard techniques are envisaged in order to create a 2D environment map and to use this in further steps for localization.
In order to apply to this project, the ideal candidate should be open-minded, challenge facing and hardworking personality. Additional knowledge of C++ and VI is a plus. The project is planned to be partially done at the office of NI at Cluj-Napoca.
Apply to this project by contacting Levente Tamas, before the end of second semester.