Robot pose estimation in 3D using tracking cameras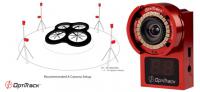 Robot localization in 3D space is an essential task for many applications in this research field. One of the possible ways to achieve this is to use a camera network, i.e. a set of interconnected cameras which can precisely detect and track the position of an object in the 3D space. 
The main aim of this project is to fuse the information from several sensors (including the onboard ones) with the position estimation output from the camera network in order to get a better positioning of the mobile agent. Challenges are especially in the calibration, image processing, networking and sensor fusion parts within this project, for which motivated and skilled persons are required to ensure successful results.
The project will involve a camera tracking system presented here.
Apply to this project by contacting Levente Tamas or Zsofia Lendek or Elod Pall, before Nov 2016.