Bosch future mobility challenge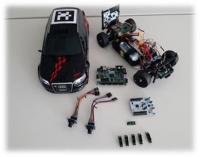 The Bosch Future Mobility Challenge is an event organized by Robert Bosch Romania, targeted to engage students in a technical oriented competition and offer them a professional context to prove their talent. The competition offers students the opportunity to prove their abilities and to overcome challenges in a team. It is of great interest to us to support this commitment and to promote upcoming engineers. We are convinced that young talent, with fresh ideas and extraordinary commitment, is enormously important for the future of mobility. This competition offers us the opportunity to talk to enthusiastic, highly-motivated, and qualified students.
The main objective of the Bosch Future Mobility Challenge is to have several student teams realize the best performing model vehicle guidance system for different scenarios, which have been derived from requirements arising from a realistic environment. Bosch will provide the model vehicle platforms for the student teams and they will be responsible for the conceptualization and implementation of automated 1:10 scale model vehicles. During the competition, the students will present their know-how in front of judges from industry and academia while competing with other teams. Also, several driving tasks have to be executed as fast and precise as possible. At the end, it is not necessarily that the fastest model vehicle wins. The team with the best overall package of design and driving performance, project planning, and overall arguments goes home with the trophy.
Bosch Future Mobility Challenge will take place in the May-June 2018 timeframe, in Cluj-Napoca, Romania. In the ROCON group we are looking for a team of 2-4 excellent and very motivated students to represent us at the competition. Apply by contacting any of the persons below.